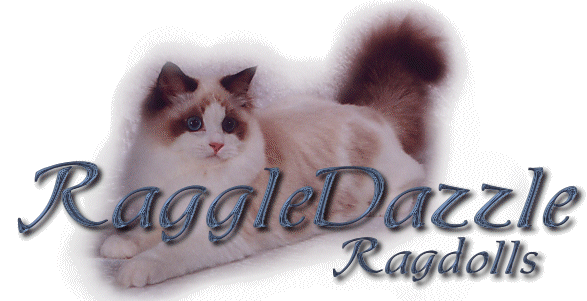 THE BOYS OF RAGGLEDAZZLE
Below you will find the Boys that live here at RaggleDazzle. Each male
in special in their own way and pass that on to their babies.

CFA Grand Champion

Rags2Riches Blue Boy of RaggleDazzle

#2 Ragdoll Kitten CFA-Southern Region 2003-2004

***Blue Boy is now a CFA Grand Champion at 9 months old***

Blue Boy is our latest addition and all I can say is that I LOVE this kitten!!!

He is only 7 months old in this picture and look at this sweet face and great boning.

Blue Boy has already been shown in CFA and is a natural at showing off his wonderful

personality and floppy temperament.

No wonder he is so wonderful, his Father is Grand Ch. Rags2Riches Magnum of LeCapri

and his mother is QGC Ritzyrags Victoria of Rags2Riches....

A HUGE Thank you to Scottie Cone (and Wanda Younger also!!) for this Top Quality Baby!!

RaggleDazzle's Grizzly Bear - Grizzly is a great seal bi-color male who also as the same features of his brother, Kodi. Grizzly has been shown in CFA and will continue to live here with us and finish his show career.

Look for Grizzly at upcoming CFA and TICA shows...

RaggleDazzle's Boy George
"Georgie" is my new baby that was born here. He is a son of GC Rags2Riches Blue Boy and
you can see that he gets his great looks from his Dad. Georgie is a perfect marked blue bi-color
boy who is only 4 months old in these pictures. He went to his first show and not only
is he a natural at showing and purring for the Judges, he brought home an arm full
of ribbons. Watch for Georgie at all upcoming CFA shows as he continues to show his stuff!!

RaggleDazzle Luckie Charms

Luckie is a perfect marked blue bi-color male who is only 6 months old in this picture. He is a son of Grand Champion Blue Boy and the brother to RaggleDazzle's Gypsy. Luckie is so sweet that he loves everyone and kisses you in the face. He has his fathers great expression, size, and type... Look for Luckie at upcoming CFA shows!


Home